So this evening I was out and stopped into a local music store.
Not really looking for anything in particular, just wasting time mainly before they closed.
I saw this hanging on the wall as it caught my eye from a ways away. I'd never seen a Les Paul finished in this type of finish before.
Picked it up and thought man, this is light... I've got a 2020 50's LP Standard for reference.
Started fiddling around with it and it felt and played great. Really like the neck profile - better than my 50's Std. Really like the weight - or lack thereof. And absolutely love the color. I still don't know what it would even be called.
I noticed that the tuners had been changed over to the locking grovers. I also noticed that the neck pup was backwards lol, so I asked the guy to open up the control cavity so I could see if someone had worked on it - they had. It was fairly neat and tidy work, outside of the neck pickup being installed backwards... although the tech at the store said that it was some type of fairly common mod to flip the neck pickup around like that. He seemed pretty knowledgeable, so I don't know, maybe it was on purpose like he said. Anyone know anything about the orientation of that pickup? I didn't know anything about that orientation being desirable to some people.
I've got a set of Seymour Duncan WLH's that have been sitting in the box for about 3 years. I've got a set of the Kluson tuners that were originally installed on the guitar and I've got a LP harness kit from RS Guitar Works that I use for most of my guitars as I really like their pots and products in general.
He had it listed at $1,999. I asked him if he'd come down at all because it wasn't stock. He said he'd do $1,850. I looked it over best I could in the last 5 minutes or so that the store was open and asked if I find anything odd with it in the next couple days can I return it. He said they don't normally do returns, but that if I noticed something in the next day or so, he'd make an exception. To me, the price seemed fair, hope I didn't get screwed.
I can't really find anything wrong with it. I mean it's a 15 year old guitar, so there's some very minor scratching and surface dings (shallow), but overall it's in very good shape.
A few questions though: first off, I'm having a difficult time finding much information out about 2008 Les Paul Standards.
I think the color might be one called "Root Beer" based on what I can find, but man, it seems like that's a fairly rare color. Does anyone know anything about the color of this one? I don't know what it is, but I like it. A lot.
Also, I'm not really an expert with the Les Pauls - I've got 3 now, two standards and a Junior, but what are some common issues that I can look for to make sure it's good before my 2 day window is up? Mainly body/neck/fit/finish type issues as the electronics and tuners will be changed.
Also, is this a fully chambered body? It feels very light compared to my 50's Std. It looks like in 2008, they were fully chambering the body rather than "weight relieved?"
With a fully chambered body, if it does have one, would the Seymour Duncan WLH set work well? I mainly play blues/rock/classic rock type stuff. I think originally the guitar came Burstbucker Pro 1 and 2's. I do not know much about them, nor have I ever played them. I've got Seymour Duncan Antiquities in my 50's Std.
Anyways, as mandatory in these threads, here's some obligatory pictures.
Let me know what you guys think about some of my thoughts/questions! Thanks!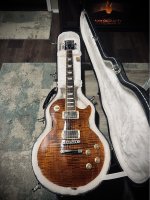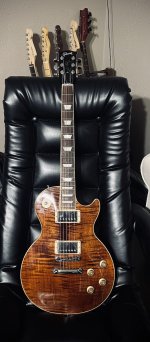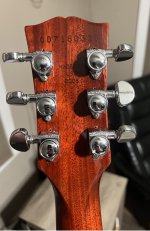 Last edited: