Need some opinions please.......... I'm really seriously tempted by this, I saw it about two weeks ago at a shop in Oxfordshire UK, it looks, sounds and plays amazing. Has some original parts including long mag PAFs, '59 loom with matched pots, ABR-1 and 5-latch brown case. It has had the neck angle reset and re-topped with correct wood, work carried out by one of the UK's best luthiers apparently!
It's a great guitar with history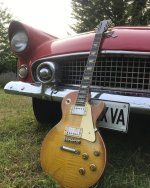 !
Your thoughts please ladies and gents..........
2006 Gibson Jimi Hendrix Psychedelic Flying V #165
www.vintageandmodernguitars.co.uk