Joined

Mar 31, 2020
Messages

297
MODERATOR'S NOTE:
This thread started out as an inquiry from a Forum member regarding what he thought was a player's grade real burst. As the thread evolved, it turned into a very informative thread concerning what to look for when trying to authenticate a guitar you believe to be an original burst.
Hey guys, I wonder if anyone might be able to help me restoring an old 1960 players grade 'Burst I bought recently from a mate. Even though it already plays and sounds great, I think I owe it to the 'ol girl to tart her up a bit!
The good news is that the sunburst finish is original... but that's about it LOL.! As you can see from the pics below, the pickups have been changed (to a DiMarzio SD at the bridge, and 1979 Gibson at the neck), as have the machines (to Grovers). Other changes include jack plate, all 4 pots (to 1970s), capacitors, switch tip and nut.
The bridge, tailpiece and pickup surrounds though I think are original.
My thoughts at the moment are to change the bits you can see, or that affect the sound of the guitar (eg the capacitors). The pots work perfectly so seems silly to change them - the body has been carved about a bit in the past to fit bigger pickups so it will never be a 'collectors' grade guitar.
I've attached some photos below, but as a restoration novice I'd be really grateful for any tips or advice from some of you guys who actually know what you're talking about! Similarly, if anyone has any relevant parts for sale please let me know!
Thanks very much!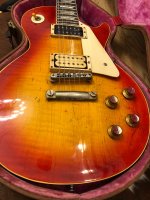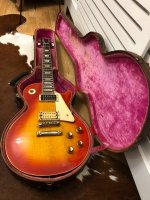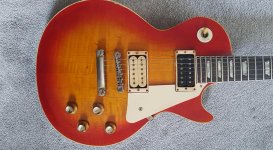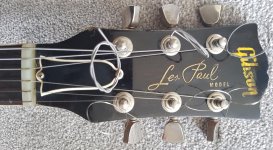 Last edited: