Hi all, first post *waves*
is there a consensus as to whether maple figuring can develop over time? Google doesn't seem to help.
I would have thought that the obvious answer was 'no' - figuring after all is down to how the wood has grown, and it's not doing much growing when it's glued to a slab of mahogany.
But if so, how come my 1995 Std, bought from new when I was 18, has gone from a plain top to a (modest) Birdseye one?
I don't have a 'before' pic I'm afraid, but this is how it looks now.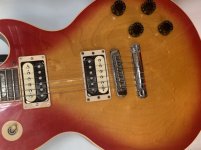 Last edited: