Joined

Sep 13, 2021
Messages

3
Amazing information, Randy. Thank you for the thoughtful, detailed reply. I'm fortunate enough to have gotten my hands on some pre-Norlin Gibsons before they skyrocketed, but the Norlin ones are still my favorite between their interesting histories and my own background as a child of the 80s.
So my special is only several numbers off the first one you built! It's amazing to see the overall evolution of the model subtly reflected in your careful records. It's a thrill for me as I'm an ancient historian by trade and it's reminiscent of the records we are able to dig up to piece together the past, like scraps of papyrus from Egypt. I'm pretty sure the pickups are stock as the cavity solder joints look all original and they read in the low 8s DCR like every Spirit I've seen. They have all the traits of a Tim Shaw (magnet, screws, sweet tone very different from a T-Top, whitish oxidation on slugs, etc.) but slightly hotter as the readings show so I've always suspected they were purposefully designed this way despite being advertised generically as 59 reissue humbuckers like other Shaws. Whatever the case, they have no date stamps on the bottom like a post-85 Shaw but everything points to them being factory. The other interesting thing is that I'm pretty sure the body is maple despite ads saying alder or poplar for these early ones.
i'm happy to PM the numbers, which I'll do now. In addition to the special and the late '79 The Paul (both totally stock from what I can tell), I have an early '79 Paul that someone installed creme dirty fingers into the bridge position with a coil split switch like a 335-S (I believe in 1983 as the DF are stamped 82 and someone proudly wrote their name with '83 in the control cavity). I don't think it's your dad's initials in this one and it's been obscured by the proud 83 modifier, but I have a photo below for reference next to the earlier stock The Paul cavity.
Finally, I have an interesting May 1980 cavity-stamped SG Firebrand (127th day serial number) that I think is transitional in its own way (mahogany body despite it still being a Firebrand standard instead of a later deluxe). The original owner swears it's all stock and it looks so despite a TRC that just reads "Standard" (perhaps that day there were no more Firebrand appropriate TRCs?). I bought it thinking Velvet Brick and T-Tops as I'm a huge fan of T-Tops and generally prefer them, but the April stamped neck pickup looks and sounds like a Tim Shaw though people say the earliest ones are June or maybe May. Perhaps it was a more gradual change as parts got used up? The Velvet Brick has a black T-Top bobbin and a creme Shaw bobbin with its extra squared hole, so it seems so! The neck pickup definitely sounds very different from my February and September 1979 neck pickups in my The Pauls, even accounting for body/wood differences.
I also have a '79 GK-55 but that was made in MI, of course, and a different story...thanks again!
Late '79 The Paul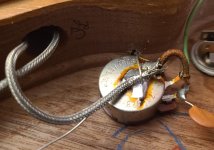 Early '79 The Paul (with DF bridge mod)