Joined

Nov 21, 2011
Messages

441
We've all seen this photo before. Aside from the other extremely interesting examples like the Bigsby'd cherry red one, the black one or the Mary Kaye GT, the one that I personally always found the coolest is the one in the bottom left corner. It has a Mandolin style scroll headstock.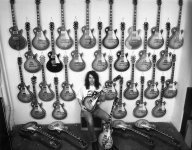 I can't recall much discussion of this guitar. Of course, any guitar from that particular collection is unlikely to have a ton of information available anyway, but there's (hopefully
) no harm in bringing it up. What the hell, maybe someone here used to own this guitar. If anybody knows something about it or has photos please share what you know. I'd love to see it more closely.
Obviously that has to be a custom order at least, if not an employee guitar (if it is indeed factory). The fact that the headstock is unbound and has a crown inlay makes me think it actually is factory. Had it been a mod or something, it probably would have looked more like almost every other scroll headstock - guitar or mandolin - that we've seen i.e. multi-ply binding and flowerpot inlay. However this is purely speculation. I highly doubt that it's a fake, a guitar with a headstock like that would probably be looked at very very closely before dropping serious money on it. Plus, looking at other examples in that collection, there's obviously somewhat of an affinity for one-offs and oddballs.
Apart from this guitar, has anyone ever heard of or seen other examples like this? I mean Les Pauls specifically. There's photos of a Byrdland with a scroll headstock, albeit from 1980. I also recall a video from Norm's Rare Guitars where he's talking about one of his books and 'L4(?)'s with mandolin headstocks' are mentioned. Then of course there's the Ibanez examples, which like their Moderne, may have been modeled after/inspired by an existing example (God only knows if that Moderne is real, I think it is but that's another discussion).
Personally I love the look of that headstock on a Les Paul, especially without binding and with the crown. I imagine that, like the moderne, this is probably a love it or hate it thing.
I unfortunately do not own a copy of the Japanese version of BOTB but AFAIK the photo of Perry Margouleff in front of the wall of bursts is the only one where you can see that guitar, in other words, it doesn't have its own page (please correct me if I'm wrong). Also, if anybody could do a high res scan of that photo or that guitar in particular, i'd really appreciate it.
Last edited: