Joined

Feb 25, 2018
Messages

126
Until yesterday I'd owned 12 different Gibson USA Les Pauls. Bought, sold, and traded them all away during my transition from the USA shop to the Custom Shop… all except one, my 2016 Honey Burst Traditional I bought brand spanking new just two weeks after its QC checklist date back in the fall of 2015. That guitar is an absolute killer! It hangs right there with every CS Reissue I have ever bought. It's just one of those special guitars!
Anyway, after getting into RIs, I kinda didn't look back. Always liking the USA stuff from a distance, but never feeling the need to buy another—so firmly embedded was I in the R8/R9 chase!
I even weathered the change in ownership's wise move back to making the Standard a
Standard
again. And while I was happy to see Gibson listening to its customers and finally moving in the right direction again, I didn't need one. Besides, I expected once the honeymoon was over with the new owners that the new Standards would start to just be another Gibson offering. But people kept raving about them. So I decided to go check one out last year in-person. It was a 50s model in Cherry Sunburst, a 10-pounder! And despite playing pretty decently, its bridge was wonky… the bass was side super high and the treble side was all the way down, yet the action on the treble strings was still quite high. Something was amiss with that guitar, for sure. And, despite really being a 50s neck kinda guy, I wasn't in love with the shoulders on that 50s model's neck. Guess the softer shoulders of the R8s and R9s of the past few years had spoiled me.
Anyway, I wrote off getting one just because, well, I didn't need one (like that's ever stopped any of us :laugh2
. But I just have not been able to get them off my mind… especially the Unbursts! I just love that color. I've had a couple of Light Burst Trads in the past and Unburst is that same color, just renamed. (Perhaps inappropriately because they really aren't "un" bursted are they? That is, they all still definitely have a noticeable burst pattern to them… a rose by any other name—yada, yada, yada.
)
Anyway, to cut to the chase, I finally found an Unburst online that I couldn't say no to. It too is a very recent build, its QC card being dated 1/10/23 (but it has a 2022 SN). I love peekaboo flame and it had just the right combo of flame from certain angles while showing off cool plaintop flowing grain from others. It was also about as lightweight a USA Standard as I've ever seen (I don't do 10-pounders… my Silverburst LPC is 9.58lbs and that's really too much for my tastes… if it wasn't a Silverburst LPC it'd probably been gone by now, ha!).
Anyway, this new girl is a 60s Standard (I'm
not
a 50s neck zealot… I prefer a 50s profile tactilely, but don't have any problems playing a slim 60s neck and wanted some variety since my other 4 LPs are all 50s profiles, plus as mentioned above, the shoulders on that one 50s I played kinda turned me off).
So… I pulled the trigger when I saw this one on reverb. I didn't buy it through reverb though. Instead, I called the shop (mom & pop shop in Seattle) and talked to the owner. Got a nice little discount for buying directly from them… and free shipping…
AND no sales tax
! So I figured why not?!

It arrived yesterday!
Here's the tale of the tape:
Neck: 0.813"/0.890"/0.931" (1st/7th/12th frets respectively) with nice medium shoulders
Weight: 8.47lbs (8.48lbs after my minor mods, ha! <see below>)
I swapped out the "Standard" TRC for the blank one Gibson provided in the case (cool move Gibson!). I also swapped out the short USA factory pickup rings (which I've never liked) for some proper tall M69 Historic rings that I had sitting around. And added a Mojoaxe squared-off cream jackplate cover (had a spare sitting around) for good measure! And, of course, oiled the board with Fret Doctor and put on some new Gibson Vintage Reissue strings (10-46).
I am intrigued by these 60s Burstbuckers (61R/61T) so far. They are definitely voiced differently than any of the other pickups in my other LPs (PAF-type and T-top). I'm not sure they will stay. I'm an inveterate guitar tinkerer and I have some double white/cream Cream T Scan 3 humbuckers sitting around doing nothing that would likely sound (and look!) fabulous in it. We'll see… but for now, the 60BBs stay.
And, of course, here's a plethora of pics! :cool2:
At FedEx during pickup (fresh outta the box, first look).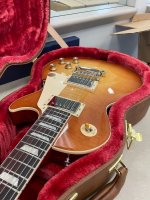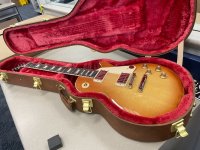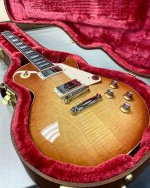 Later at home on the workbench (after the minor parts swapping).