Joined

May 25, 2021
Messages

616
I commonly refer to transition Stratocasters as the "trannycasters" for obvious reasons. The last of the pre-CBS Strats are often referred to as the "transition" Strats. Though they are not what I would consider the "peak period" of the Strat, the trans Strats were an obvious part of the Strat's rich history. If you own a transitioning Strat, you're lucky. If you own a Strat from another period, well...you're still lucky.
During this period, the headstock logo changed from gold spaghetti style to block gold. Clay fingerboard dots changed to pearloid, pickguards changed increasingly from 3-ply celluloid pickguards to white plastic, and the grey bottom pickups arrived, with the famous Alnico V magnets.
Robert Cray's famous 1964 Inca Silver Strat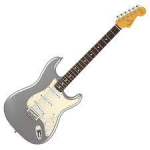 Nancy Wilson's 1965 Fiesta red Strat (which is now on display at the Experience Music museum in Seattle)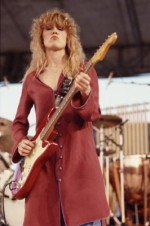 and Bob Dylan's 1964 sunburst Newport Folk Festival Strat (which sold in 2013 for $965,000 with all pre-transition specs)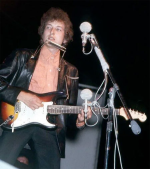 The transition Stratocasters lasted well into the first years of the CBS take-over, at least until 1966 and 1967. By 1968, the blocky logo with black hand lettering would appear on the headstock, which was also made larger (ostensibly to avoid neck warping.)
I've also seen a lot of Jazzmasters, Telecasters, Precision and Jazz basses from 1964 and 1965 a lot. Shows that despite every Fender having its imperfections, they are still fun to play.
This thread should at least clear up the confusion most people get involved with regarding Transition Strats.