Hi folks,
New member here.
Hope you are all doing well.
I have owned/own other Gibsons (USA and Montana) over the years (but by no means am I an expert) but my last Gibson purchase was around 10 years ago.
I kinda lost interest in in-production Gibsons over the last 5-10 years when they were making all those crazy robot guitars and whacky colour schemes and all...
But with the change of ownership, I regained interest in the brand, and I was always looking for a nice ES-335 and I really dug the spec of the figured variant of the new 335s in the USA line - figured top with cherry finish, block in-lays and kluson-style tuners look very nice IMO. Also the T-type pups are quite nice.
So, after a bit of waiting (seems like not many of these are available at the moment) I recently picked up one of the USA ES-335 from the new collection (nashville made) in figured sixties cherry.
Really like the figuring in the maple top of the example I received (really good combo of graining + flaming... I know some people prefer having just crazy flame/quilt or graining but I always liked a bit of graining on cherry 335s like the actual 60's examples and I think I am getting the best of both worlds here!) and sound is nice but I found a few flaws and just wanted to hear experienced members' thoughts:-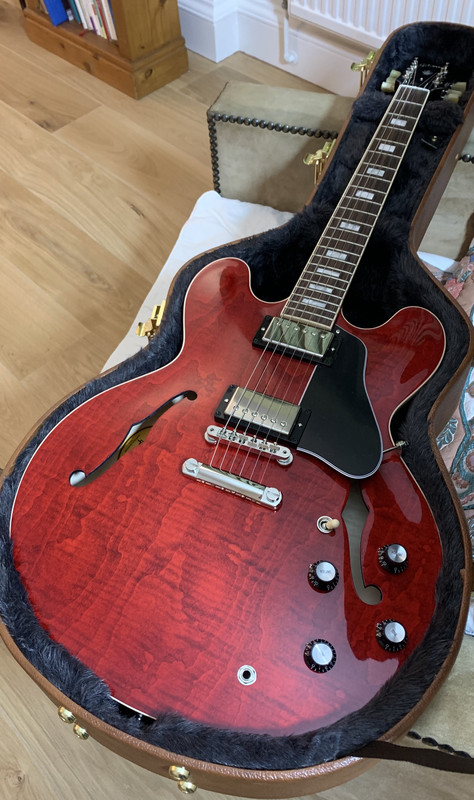 -Some light surface level scuffs/scratches on the clearcoat near the tailpiece. There are couple of other 'streaks' surface-level scratches on a couple of other areas on the top. Obviously, not ideal but I am not TOO bothered about these in isolation as they are just surface level scratches but still would have prefer if they weren't present!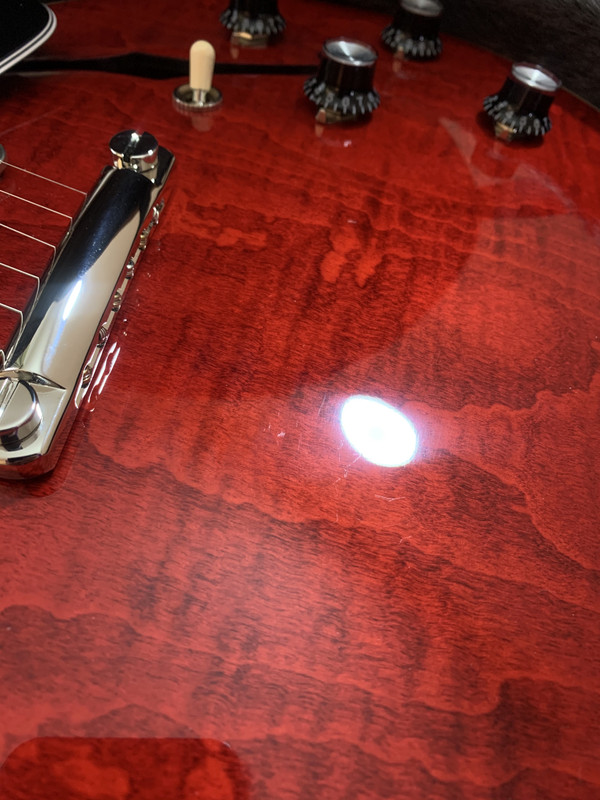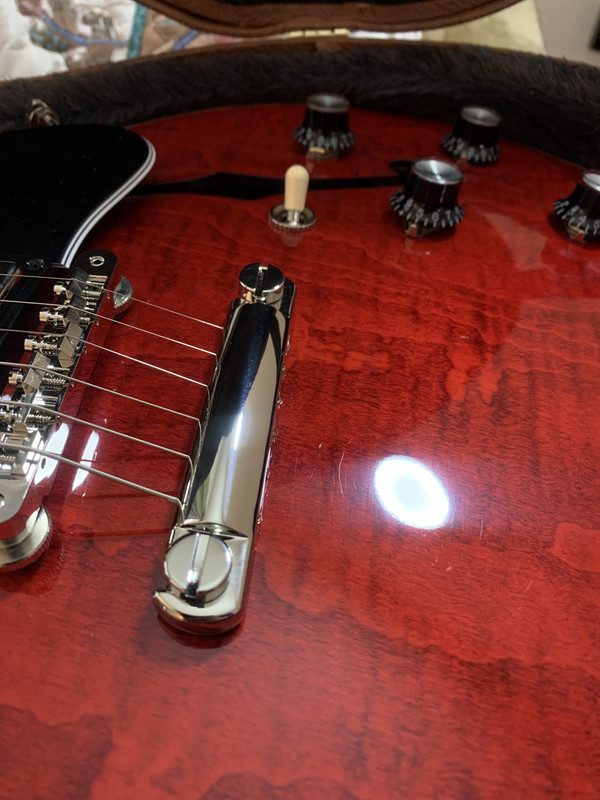 -Uneven binding work and slight divots on the high e end of the last two frets.
Some uneven binding on the neck and some tooling marks and 'black' marks here and there but not too bad... i guess.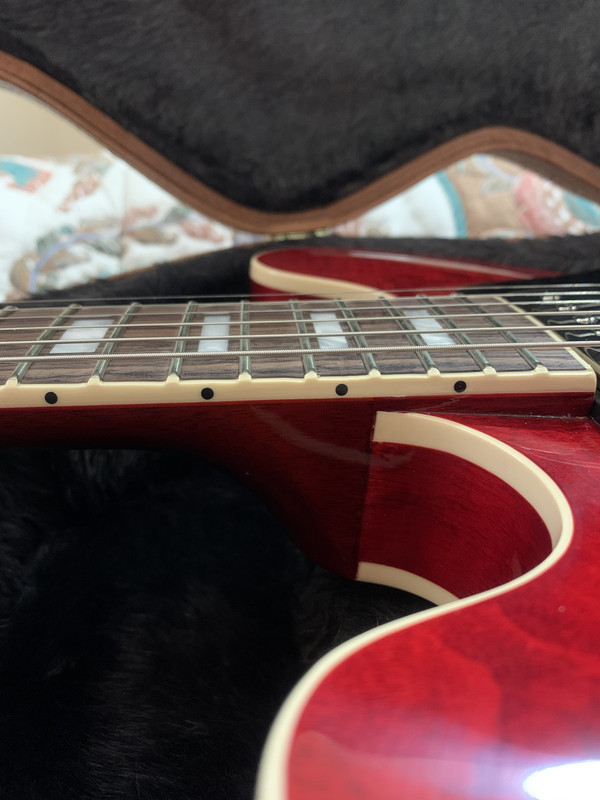 slight divots on the high e end of the last two frets. The divots are not sharp or anything, only really can be felt with my nails, just running fingers is ok.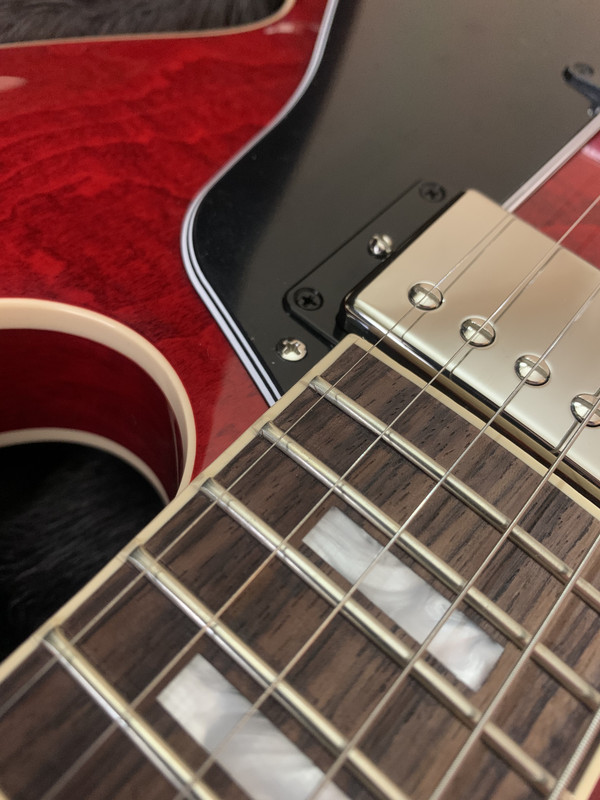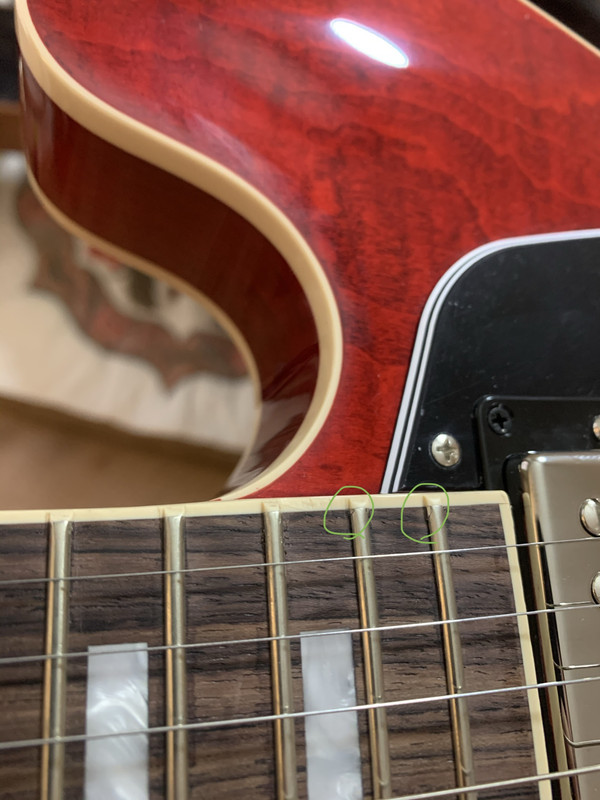 -Slight 'bubbling' on the clear coat on the binding on the body. I think this is due to that particular spot (around 2cm in length) being shaved a little more than surrounding areas. when I run my finger over, I can feel slight unevenness.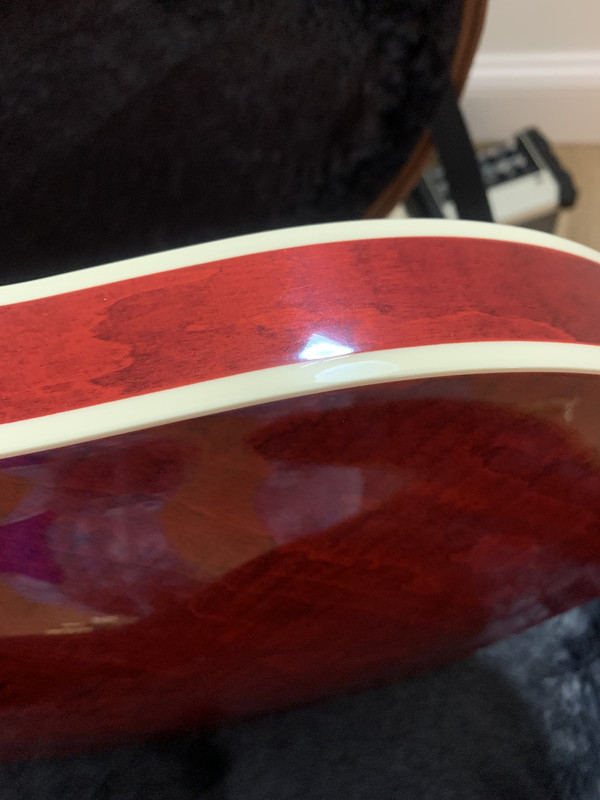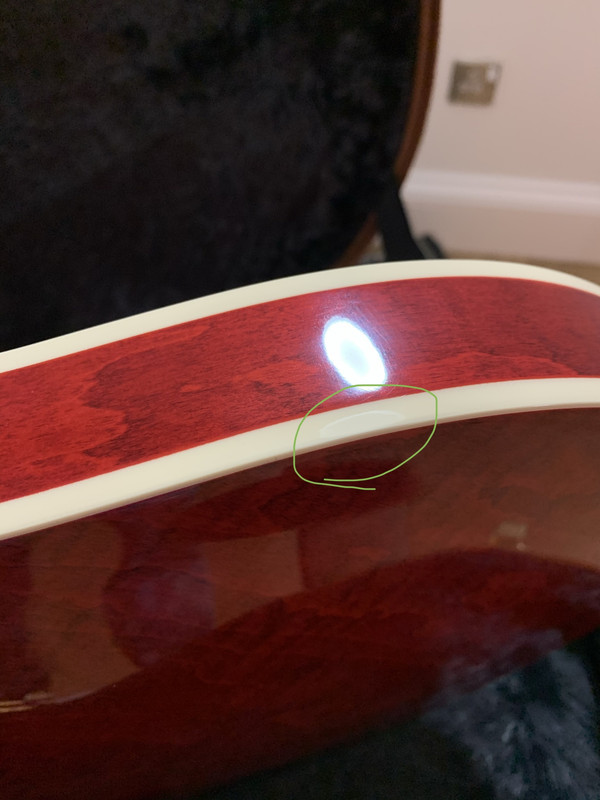 Given these 'flaws' I am wondering whether I should return this example - I am on the fence with this one because I think the figuring is lovely in this example and I think the sound is nice but since I purchased a new example (this example wasn't a demo or anything. The shop received from Gibson EU, opened the box, took the photos for me and shipped out to me the same day), I expected a better finishing than this, especially on the neck binding, fret and body binding.
I did receive pictures of other examples of the same model they had in stock but they didn't have tops as nice as the example I current have (was surprised to that there is so much variation with these figured ES tops, more so than LPs) and they also had some cosmetic issues as well, albeit in different areas.
I did get a little discount of £100 (not related to the above issues) on top of a promotional discount of £200 (so £300 off in total from U.K. RRP but most other dealers are still offering £200 discount on this model, albeit not many of them actually have them in stock). The dealer is not willing to give me any cash discounts but are willing to give £100 in store gift card if I decided to keep this example.
I understand Gibsons are generally never 'perfect' in terms of finishing and fine details but I wonder if the flaws above are within the "acceptable range".
And I am guessing if I were to go down the route of returning and finding another one, I will potentially be spending a lot of time and energy in the pursuit of a "flawless" example, which may or may not have a top as nice as this.
If you could please share your thoughts on the above issues and what I should do, I would be grateful!
Thank you and happy new year in advance!
Last edited: