Joined

Jan 21, 2006
Messages

576
Nobody wanted this 2015 model because : Les Paul anniversary signature on the headstock, Heavy GForce auto tuners.
This SG Standard was listed US$1879.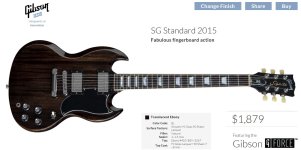 This SG Std have very good points : Hand wired pickups and hand wired controls with possibility to switch to single coil, the fingerboard inlays are made of real mother of pearl, not plastic (awesome colors), the fingerboard is smoother sanded, buffed and oiled; the adjustable nut is perfect to obtain a low action; the slim taper neck is fantastic, very comfortable (for me) , the finish is perfect on mine,
The GForce tuners are very heavy but work perfectly , I removed the GForce and I Installed a set of KLUSON Revolution tuners, they are light, knobs are very smooth, PERFECT for a Gibson SG,
With time the brass nut wears out prematurely , I choosed a GraphTech TUSQXL adjstable nut.
Here are the 2 points that need your attention, the tuners and the nut.
I paid the SG new 890 €uros ..... a very cool price . The rectangular case is large so I' ve found a Custom Shop one on a forum.
I made other upgrades for the sound and for the style : Gibson ABR-1 conversion with FABER INSert (better sustain and more vibrations), wide bevel pickguard, M-69 pickup rings, etc ...
Now you know everything about this incredible SG, enjoy !