Joined

May 25, 2021
Messages

617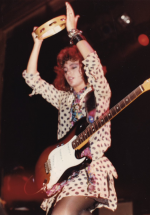 The thread is a no brainer, but I believe this Strat was a 1967 Strat played by Vicki Peterson of the Bangles, who also owned it. You can tell its a transition Strat because it has the rosewood fingerboard and does not have the black lettering on the headstock. That didn't appear on Strats until 68. And look at that tambourine Susanna is holding...I really like her style!
I believe Susanna Hoffs also owned a few Strats herself. But almost everyone knows that she has her own line of Rickenbacker guitars, and she also has played a Guild 12 string, and a Gibson SG. I hope this thread interests some LPF users and doesn't offend anyone.
I am also posting this because today is Susanna Hoffs 63rd birthday. For a woman in her sixties, she looks at least 40 or 50. Her voice still sounds like it did in the Eighties.
But I hope somebody stumbles upon this thread and replies to it. Thanks