Joined

May 25, 2021
Messages

106
I bought this guitar for $100 at a consignment store on Lawrenceville Highway in Atlanta on New Years Eve 2020. It was for $600, but the owner of the consignment store (a Vietnam veteran named Joe) said I could have it for way less.
Carl Wilson Of The Beach Boys was a player of both Epiphone Casino 12 string and Epiphone Les Paul Electric Guitars. I think Nancy Wilson and Roger Fisher Of Heart both played various Gibson Les Paul, Epiphone Nighthawk and Epiphone Les Paul Electric Guitars (one of which was fitted with Alembic pickups!)
And my friend Katrina Todd also owns an Epiphone Les Paul (and just had the output jack and strings fixed!)
My Epiphone Les Paul is from the early 2000s, and has a scalloped neck. I also have an Epiphone J200 acoustic guitar, but that's another story....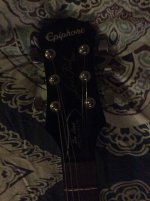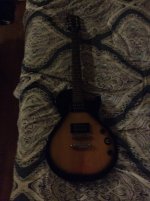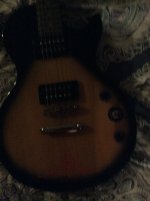 I hope you guys like the pictures of my Epiphone Les Paul!