Joined

May 25, 2021
Messages

617
I made a similar post on my old account on the My Les Paul forum, before that account got deleted.
Jimmy McCulloch is an overly obscure guitarist, and he deserved a lot of recognition in the 26 small years he spent on this planet.
He spent a lot of those years playing with Paul McCartney, Linda McCartney and Denny Laine in Wings. McCulloch played on the albums Venus and Mars, Wings at the Speed of Sound, Wings Over America and London Town before leaving in 1978. He also played in the Small Faces, on albums by Elton John and Roy Harper, Who bassist John Entwistle solo album Whistle Rhymes, and on the Who member Roger Daltrey's problematic 1977 solo album One Of The Boys.
McCulloch, who was from Scotland, would die of an apparent drug overdose in August of 1979.
Jimmy McCulloch composed the anti drug themed song Medicine Jar, and sang lead vocals on the track. He also played some George Harrison like slide guitar
here is a picture of Macca and Jimmy McCulloch.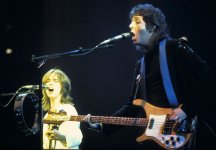 He was a great guitarist, and usually played a Red Gibson SG, a Gibson ES 335 Electric guitar, a Fender Telecaster, a Fender Stratocaster, and a Gibson Les Paul. For acoustic work, he would play a Martin D28 and Ovation acoustic guitars. One of which was electric acoustic.
He also played a Fender Precision Bass and a Fender Jazz Bass, mostly used for whenever Denny Laine or Paul McCartney would play piano or acoustic guitar.
My girlfriends dad is very close friends with Denny Laine, and if I ever get the chance, I should show him this post. Jimmy McCulloch also played a cherry red Gibson ES 335 Electric guitar, as evidenced by this photo: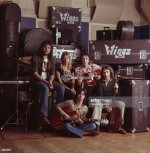 That guitar went on the chopping block a few years ago. Denny Laine and Paul McCartney both played a Gibson Les Paul, and Paul McCartney of course, had a left handed Gibson Les Paul. I know that they used Fender and Marshall amps. I saw a Wings Over America concert movie on Tubi just a few weeks ago.
Does anyone think Jimmy was a good guitarist? If so I would like to hear your opinion.
Then again, a lot of his guitars probably got auctioned off.