Joined

Apr 6, 2002
Messages

26
So, this past weekend I was cruising through Craigslist and a 2003 Les Paul Classic was up for sale with Gibson Antiquities pickups, 50's wiring and a jumbo refret. And it only weighs 8 lbs. Sweet! It had a decent price but I offered something less just to see if I could start a dialog to negotiate. Turns out the owner accepted my offer! I had to scramble on Sunday morning to round up cash from the wife and another guitar nerd buddy. Drove 100 miles and met the man in person. He was at a point in his life that he was thinning the herd and he wasn't that much of a stickler for the money. He just wanted it gone. He just didn't really bond with Gibson. (Don't cry for him. He's still playing 58' and 64' Strats and 78' Tele plus LOTS of vintage amps.)
Anyway, I do most of what I can research wise and found the serial matches up to a "2003 Classic". OK...but my guitar nerd buddy tells me that the fact it doesn't have a pickguard (nor the hole) and it's relatively lighter in weight plus the flames that it's most likely a Classic Premium Plus. I've looked all around the net' and I can't seem to verify this information. I know it's supposed to be in the pickup cavity and I'll have my tech do that when he does a setup in a couple of days but the curiosity is killing me.
1. Did Gibson produce Classic Premium Plus models in 03'?
2. Does this look like one to you?
3. Seller thought it was "Translucent Amber". Sound right?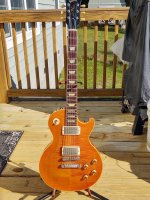 It's a cool piece and a player's guitar which suits me just fine. I'll take a player over a closet queen any day of the week but I'd sure like to know what you experts think.
Last edited: