Joined

Sep 16, 2007
Messages

855
Hi folks,
Just been to collect this from the Parcelforce depot, and I am utterly blown away!
I've been quietly looking for an old ES125 or 150 for some time, but I've never found one that fitted the bill and was at the right price. During a late night ebay search I happened to come across this absolute beauty, so I took a punt on it, and was quite surprised to actually win it!
She started out as a single pickup 175, that has had a bridge pickup added, and at some point had a 3-way toggle placed right above the upper F-hole :bigal This has since been relocated to the cutaway (a much more user friendly option)..
Tonewise, what can I say?! This thing is LOUD! I don't think I've ever experienced another guitar quite like it. I would easily put it up against a small-bodied acoustic in terms of what it throws out. The articulation is wonderful, you really can hear every note, The best way I can describe it is sounding warm and 'greasy', but still has a good amount of snap to it.
I've been incredibly lucky to have had some good fortune with vintage purchases recently. In the last couple of months I've got hold of two singlecut juniors to join my 58 DC, and one of those in particular (the Admiral Dewey '59 TV Singlecut that has been owned by a few round here) is truly one of the best electrics I've ever played. Expect a (belated) NGD thread on that one too!
Anyway, excuse the fairly lousy iphone pictures, here she is..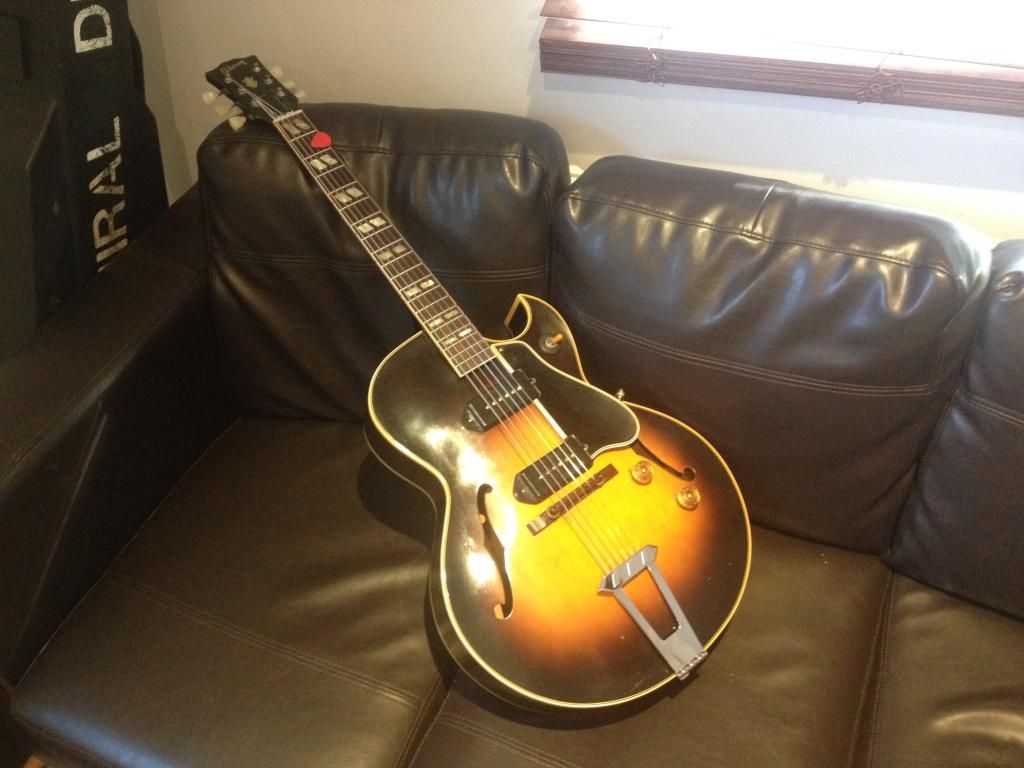 Woody
:yah