First LP purchase in almost 20 years. My '03 Braz R9 was not a keeper (luckily, it appreciated in value). I've spent decades chasing the LP that would most remind me of the vintage 'burst I had in the '80's and though I found a few that came close, never felt compelled to go for it.
Finally, I just bought the lowest priced one I found online last Friday.
Why? Maybe I'm just cheap, or I had the realization that no new guitar was going to "fool" me into thinking it was my old one. Probably both.
This guitar plays well and, to my memory, has a tone reminiscent of my old 'burst...it inspires me to play my best and rewards the effort. It will need to be broken in and maybe have the set up tweaked a bit, but it's mostly good to go right out of the case.
It turns out that this "affordable" 2020 R8 will do just fine.
Thanks to Hunter at Breaze Guitars for a solid deal!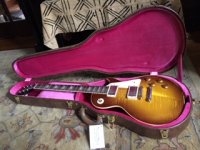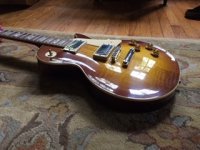 Last edited: