Joined

Jan 16, 2020
Messages

36
Hi all, I just joined the board but I have been a LP player since 1999.
Last week I decided to sacrifice my beloved ´97 LP Classic (and a Flying V 84 reissue) for my first historic : a R0 from 2007. Where I live R0s are pretty hard to find, I loved the slim taper neck of 90s Classic, this one is more D shaped but still better for me than a R8 or a R9.
I post some pics here and I would also ask some questions regarding the historic series, the specifications and how they have changed in the last decade.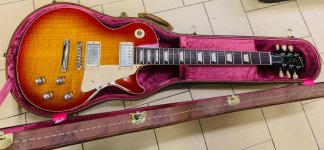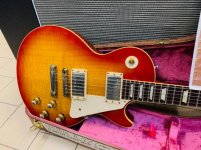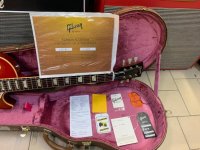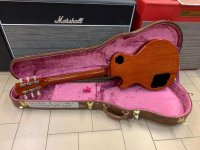 So, this is the guitar, IMO it plays better than some more modern historic I tried (I remember I tried a Southern Rock Tribute and I wasn´t impressed), it has more output but I am not sure the PUs are original (they just have the PAF sticker), not sure of the colour either or the specs.
Questions:
1) Is it supposed to be a VOS model? When I brought it home I changed the strings and did my usual cleaning with the Gibson restoration kit....now the guitar looks less dull than previously, more like my old Classic and I am a littel disappointed because I liked the original finish. Is that a way to restore it?
2) Pickups: I assume it should come with BB1 and BB2s, I checked under the bridge PU and found just the PAF sticker...is there a way to understand if they are original or they have been swapped with some other PAF clones? As mentioned the guitar feels at a tad hotter than other historics, but it´s also true it has new strings and I like to keep the PU very close to the strings.
3) Colours: is it washed cherry? Or tangerine burst?
4) 2007 : was it a good year for R0s? I noticed that IMO the top is very nice, I have read somewhere that was the first year with hondurian mahogany, any other special info or remarkable about this R0?
5) How much the historics have changed in the last 12 years? I immediately noticed the ABR-1 bridge is the same as the one of my Classic, does it worth upgrading to a wireless ABR1? Same thing for the stopbar, I don´t think the lightweight type.
Last edited: