Years ago I picked up a box of parts off an ES-330 (hand-written on the box) from a widow of a long-time gigging musician along with some other gear she was selling. (Never saw the guitar & she didn't know anything about it.) Have both the dogear pickups, pots, wiring harness, Grover tuners, & trapeze bridge hardware.
Roman guitars helped me out to date the pot stampings as mid-60's (1966 ?).
I'm looking to sell these for fair market value to someone looking to do vintage restore of a 330 . Any guidance on best forums for vintage parts sales & market value estimates would be greatly appreciated. (And yes, I know I can throw it up on Reverb for some exaggerated price and see what it'll bring. Just trying to get feedback from folks "in the know". ) Not interested in "I'll give you $x" responses...
Thanks in advance...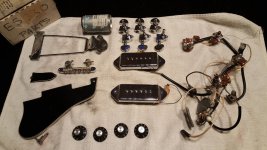 Last edited: