Joined

Aug 30, 2002
Messages

605
About 18 years ago, I bought a '61 Epiphone Coronet. Note the three mounting holes where its very rare 4-sided Maestro Vibrola tailpiece was installed.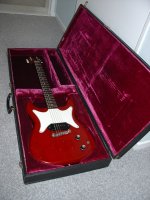 I don't really need the vibrola tailpiece and probably would never use it...but the guitar always seemed kinda incomplete without it. So I've been searching for the right model for 18 years and I finally found a guy selling one...and so I bought it. But all he has is the tailpiece itself.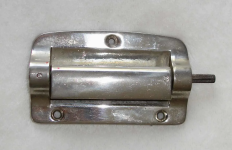 There are several other pieces that are part of this vibrloa system, including a kind of flange thingy that goes around the knurled stem that sticks out. Then there's the vibrola arm and a bolt and nylon washer and nut that hold the whole thing in place that I still need. As luck would have it, I found one of those flange things in my own parts drawer...probably came off of one of the many bat-wing Epis I owned in the 70s. But I still need to find the arm and bolt and washer and nut.
Please let me know if you know of anyone selling these items. I know Crazy Parts sells replicas...may wind up going that route, but I'd rather find the real deal...
The guitar would look like this when complete: