Joined

Dec 25, 2012
Messages

151
I purchased a custom order flame maple top guitar many years ago and I kept it for 11 years before I sold it.
It weighed in at 9 lb. - 8 oz. and the extra weight is why I finally sold it.
If it would have weighed 1 pound less then I would still have it but the buyer loves it so, that makes me very glad.
The flame maple top on this guitar has always baffled me; why?
The top is obviously book matched because the flame feature is symmetrical and there is also what looks like a knot near the bridge pickup ring that is mirrored on both top halves. That also indicates a basically perfectly book matched top.
What has always thrown me off about the top is how the flame feature is basically a mirror image on both top halves yet the annual ring feature in both halves looks so different.
This is the only book matched maple top I have ever seen where the annual ring feature demonstrate such a major difference on both top halves, even at the center seam.
This was always a fantastic guitar for many reasons but the maple top has always been a head scratcher; the strange maple top.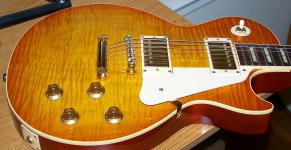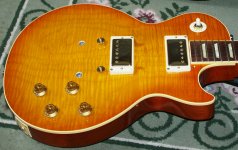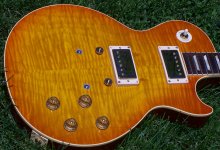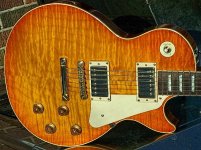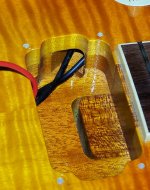 Last edited: